History of this website 2009-Present
Home Radio Show Forum [ System Information ] Computer Stuff Music Stuff

---
Hi. welcome to the compatibility mode system information page, the normal system information page is here, this one is just a history of the website, and nearly fully emulates the color scheme and user interface of co1 version 3.51
Floyd's Website 1.0: November 11, 2009- November 23, 2009
The original idea for this website came from The People United Anti- Flag forums. That site went official and the moderator was making new rules. This was sort of a joke at first. I once said:
"Fine! I'll go start my own forum, with blackjack and hookers. In fact, forget the forum and the blackjack. Ahh, screw the whole thing! "
That of course being a variation of something Bender said in the Futurama episode "The Series Has Landed". I made the first post on this site on Wednesday November 11 2009 at 05:07 pm. This is it:
Hello Everyone!
This is Floyd. If you can read this you must have done something right and the forum actually works.
Congradulations and welcome.
The old site was based on the Synchronet BBS system and was actually intended to be used on the telnet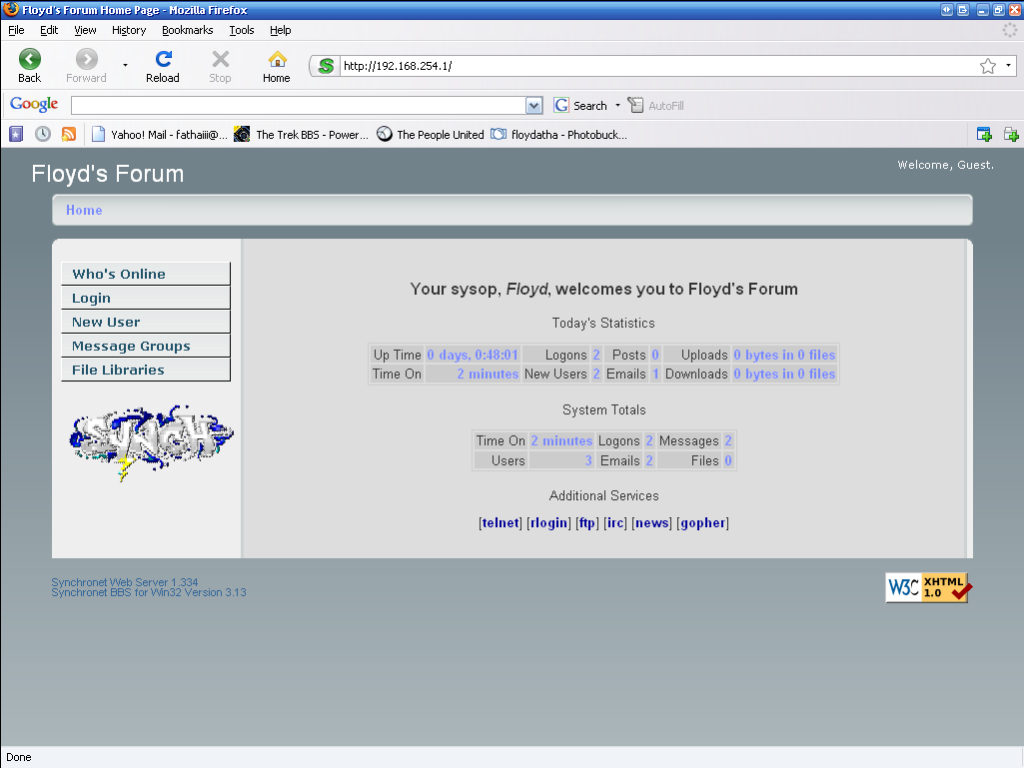 (click for bigger)
The HTML server seems like it was sort of an afterthought from the original programmers. It was very hard to use.
Floyd's Website 2.x: November 23, 2009 - January 9, 2010
Version 2.0- November 23, 2009
Was a simplified version of the original server's built-in HTML pages. It was accessed by clicking "Better version of website" seen above. It is also the first version that remotely resembles the website as it is known today. News from this era is still available in the News Archives.
Version 2.1- November 30, 2009
I set the custom HTML files as the default pages for the website, you no longer had to click "Better version of website" other than that, nothing changed.
Version 2.11- December 14, 2009
The website finally had a real domain name, no longer just linking to whatever IP address I had at the time. The domain name was originally floydswebsite.no-ip.biz, the next day it was changed to floydswebsite.no-ip.org.

Version 2.2- December 24, 2009
At this point I redid the site from scratch with a modern forum software running on a modern server. and a new forum software, PunBB. News from this era is also available in the archives.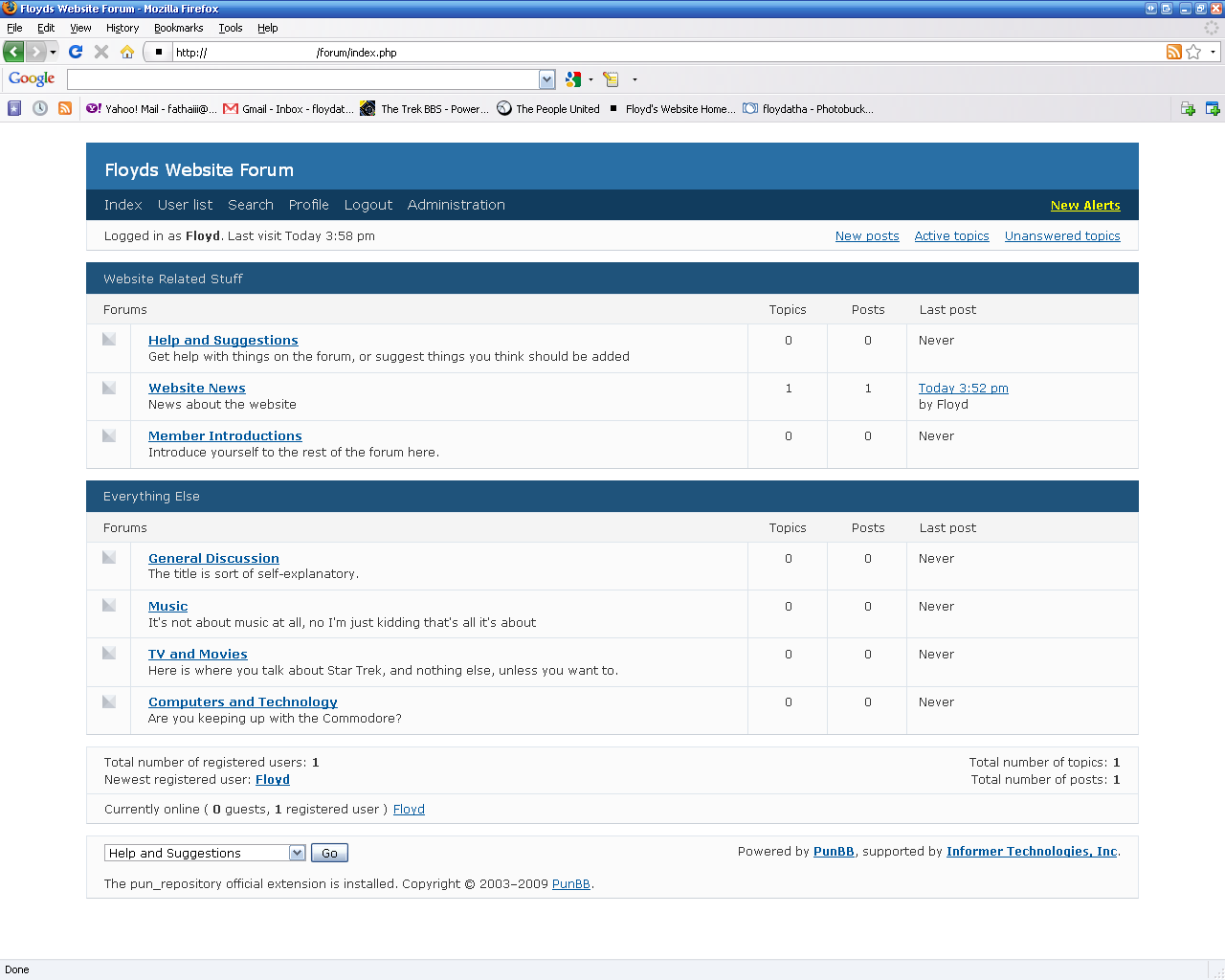 (click for bigger)

Floyd's Website 3.x: January 9, 2010 - March 21, 2010
Version 3.0- January 9, 2010
This is when I started calling the website "Floyd's Website: Home to the Internet's Only Unofficial Strike Anywhere Forum". The layout of the website in this version remained the standard until the LCARS interface was installed in Co1 4.0.
Version 3.51- March 21, 2010
The Chatroom and Computer Stuff sections were added at version 3.51. Floyd's Website 3.51 is still online here.

Chorus Of One 1.x: March 23, 2010 - May 27 2010
Not much had actually changed since Floyd's Website 3.51. The origins of this could actually be traced back to a forum topic, on March 21 I made a second domain name, chorusofone.no-ip.org.

Version 1.1
was identical to 1.0, but with an LCARS color scheme. Chorus Of One 1.1 was the end of an era, The OS/2 server quit and the old forum was lost forever.

Chorus Of One 2.x: May 29, 2010 - August 24, 2010
Introduced a new server running on Windows XP, and a new forum software, Simple Machines Forum (SMF). The new server is far more reliable than the old one.

Version 2.1- August 5, 2010
The first broadcast of The Chorus Of One Radio Show, this began Chorus Of OnE 2.1. On August 15, PunkCDSampler let me use their music server. After that, radio shows started happening a lot more, and worked a lot better.

Chorus Of One 3.x- August 24, 2010 - May 5, 2012
On August 24, 2010, The forum was upgraded to Simple Machines Forum 2.0 release candidate 3. With it, a shoutbox, and functioning image resizer and a much better forum system.

Version 3.1- August 16, 2011
Nothing but an upgrade to the forum-- from SMF 2.0 RC3 to SMF 2.0. During the upgrade, the database was corrupted. A new one was created and parts of the old one were re-integrated into it, thus all the old posts were kept, but all were started by Floyd on August 14.

Version 3.51- January 11, 2012
The website's color scheme was unified through the whole site, except for news archives. The downloads section was removed. The radio show page was redesigned. a "Links" page was added. Version 3.51 was the last version before the adaptation of CSS stylesheets and an LCARS interface.

Chorus of One 4.0- May 5, 2012
Version 4.0, or "Chorus of One Warp 4" was after I learned how to use CSS. The LCARS font was now visible on the entire site, and there was a new LCARS-based navigation system. this is the website I have always wanted. it looks amazing. this was the first version that specifically required a modern browser to properly render it's new font.

version 4.5- december 17, 2018
on december 17 2017, i posted this:
is isn't going to be a strike anywhere message board anymore. considering there isn't anybody on here anyway, that's probably doing the band more harm than good. the website will live forever, but from now on it's going to just be more general interest. perhaps focus more on computer stuff. it's still chorusofone, and will always be the most diy website this side of 1998, but with tumblr's future uncertain, i need a place i can go if that place disappears.
thus ushering in co1 v4.5 or "chorus of one warp server for e-business" lol

The rest is history. Wait, no it's not...
IT'S THE FUTURE!!!