Also, HEY! This is the first page on my site to have it's appearance determined entirely by CSS and to use the LCARS font throughout the entire page!
Anyway, this is a stand-alone program for the radio show that allows you to refresh the music player and chartroom separately: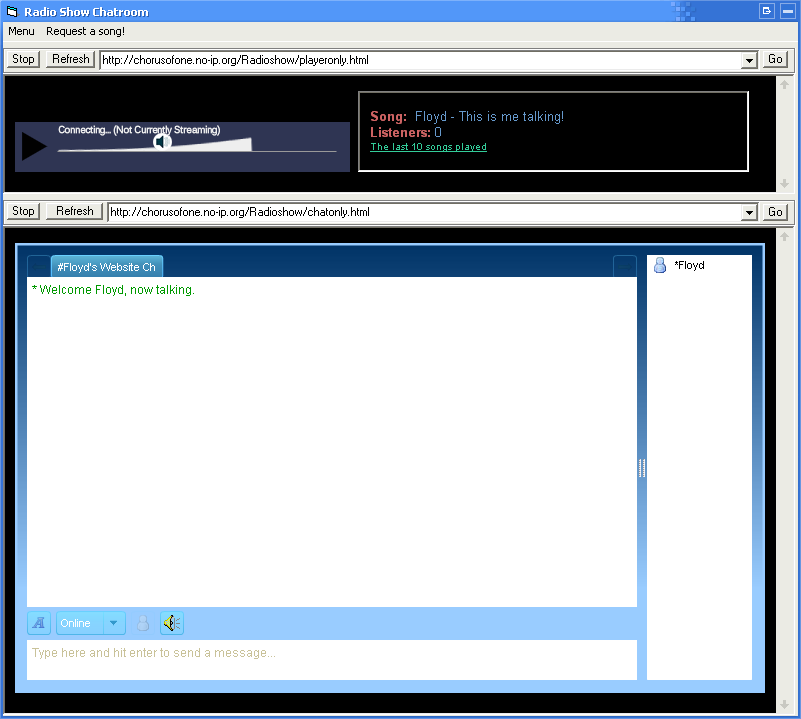 The stand-alone radio show program requires Internet Explorer 6 or later with the latest Flash Player plug-in.
And it also has the ability to submit songs automatically.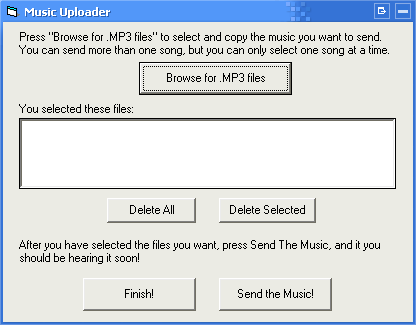 This does not install using my normal installer, as it has some dependency files that must be installed as well, it uses the VB6 installer, but I hacked it to work more like mine, it will show up under Add/Remove programs in the Control Panel, but when you click uninstall it will say it has already been uninstalled and you can remove it from the list, if you want to uninstall, use the link in the Start Menu.
download links:
Installer- Radioshow_Install.EXE (1.90 MB)
Stand alone Music Uploader- MusicUploaderSA.exe (28.0 KB)
OCXFILES.ZIP (559 KB)
Do not download OCXFILES.ZIP unless you need it, The Stand-Alone music uploader does not have an installer, and may need COMDLG32.OCX and MSCOMCTL.OCX. if the program works, you don't need it. if it does not, download OCXFILES.ZIP, extract them, and copy them your windows directory.